My ❤️8️⃣ from 2️⃣0️⃣2️⃣2️⃣
This year was unexpected. Just about nothing went as planned — sometimes better, sometimes worse. Looking back over my photos, I took fewer "artsy" shots and mostly focused on my family. Here are my favorite shots from the past year, starting top left: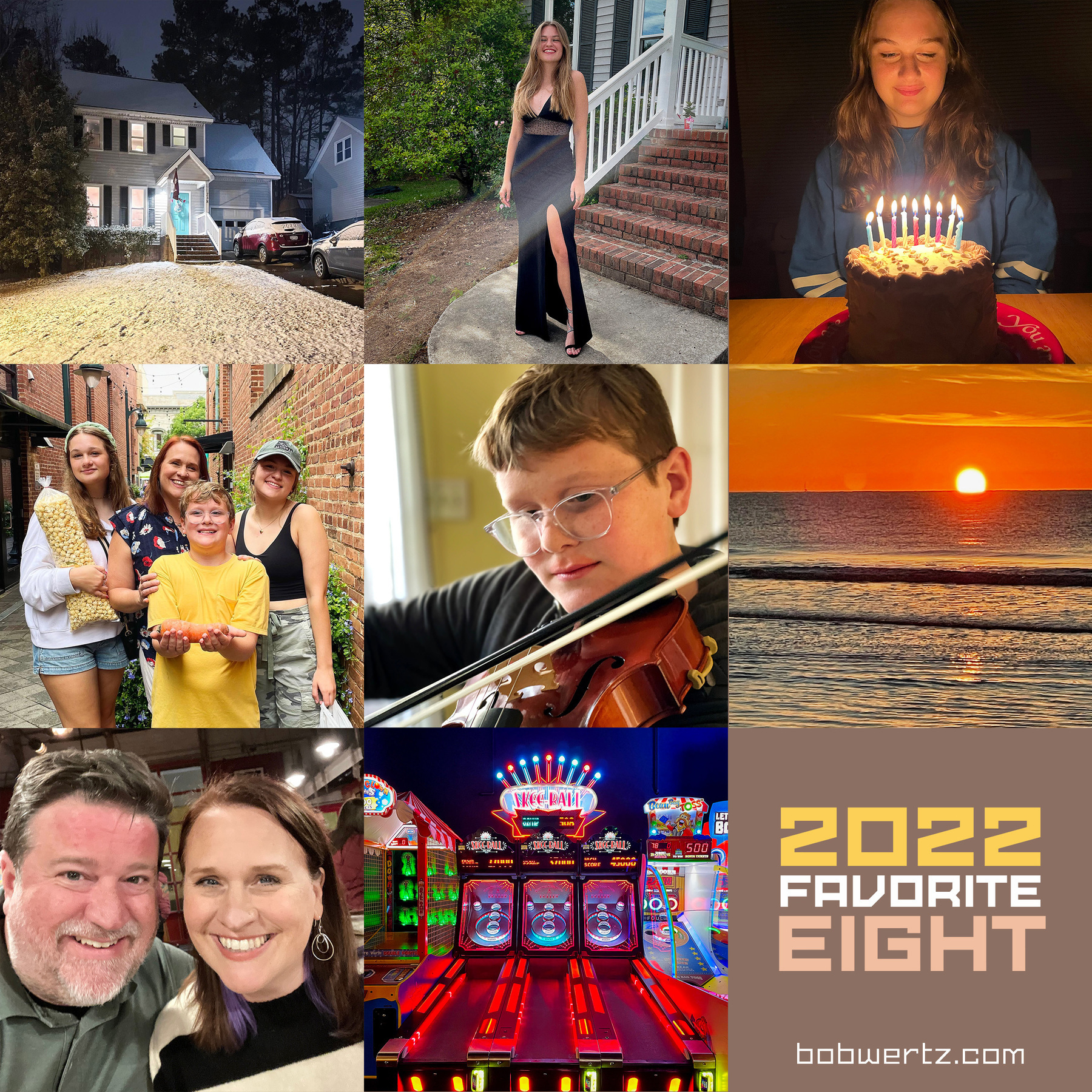 Evening snowfall. We don't get much snow in Columbia, South Carolina. When it snowed in the evening in January, every thing was peaceful and serene… and then it was fun and chaotic, when all neighborhood kids came outside to play in the snow.
Norah's prom. Our oldest headed to prom and had a great time with her friends.
Jill's birthday. There are nine candles on the cake. Not the correct number of candles, but the perfect amount of light.
Soda City Market. We headed to our local market and took this picture as we were leaving. I'm not exactly sure what's going on here — Jill hugs her kettle corn while Ryan proudly presents a giant carrot — but I love the shot.
Ryan playing the viola. Ryan started playing the viola this year and seems to enjoy it.
Sunrise at Hilton Head. Took a trip to Hilton Head with the family and woke up early enough to catch sunrise.
Lizzy's birthday selfie. Here's the thing… Our selfies are typically terrible and we have to take a bunch to get anything usable, but I grabbed this shot at Liz's birthday dinner and we both like it. So it has to be one of my favorites.
Skee-Ball. I love skee-ball, and this beautiful skee-ball machine was at the arcade where we had Ryan's birthday party.
This is the fifth year I've done a Favorite 8. You can see my previous posts from 2018, 2019, 2020 and 2021 on my other site, Sketchbook B.